Here is a somewhat different offer of a rum from the Dom Rep. The rum has an age of 12 years and was distilled in May 2010. It was bottled in June 2022. It comes from a single cask from an independent bottler who always bottles very good whisky.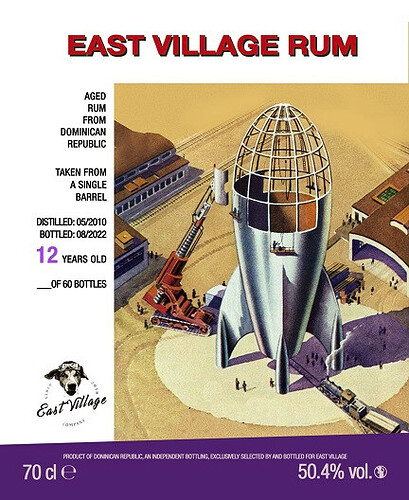 Some Tasting-Notes
Tolle Intensität (Dreiklang aus ABV, Fassholzeinfluss und pfeffrigen exotischen Gewürzaspekten wie Szechuanpfeffer, Garam Masala, etwas grüner Tee); gute Ausgewogenheit aus dezent-süßen Rumkugel-Aspekten, exotischen Früchten (Maracuja, Sternfrucht, grüne Ananas, grüne Banane), dezente Vanilleaspekte und ein Hauch Kokos sowie brauner Zucker. Dazu als ebenbürtiger Gegenpart die o.g. herb-pfeffrigen Eindrücke die von einer tollen "Dreckigkeit" und Werkstattnuancen (ein Hauch an Ölbehältern, Altmetall…) begleitet werden. Alles gut aufeinander abgestimmt, nichts dominant. Schöner fassstarker Rum
Great intensity (triad of ABV, barrel wood influence and peppery exotic spice aspects like Szechuan pepper, garam masala, some green tea); good balance of discreetly sweet rum ball aspects, exotic fruits (passion fruit, star fruit, green pineapple, green banana), discreet vanilla aspects and a hint of coconut and brown sugar. As an equal counterpart, the above-mentioned tart and peppery impressions are accompanied by a great "dirtiness" and workshop nuances (a hint of oil containers, scrap metal…). Everything well coordinated, nothing dominant. Beautiful rum, strong in the barrel
Purchase price of the bottle incl. all costs (shipping, tax, exchange fee, etc.): 95,-- € (70 cl)
Quantity to split: 70 cl
split minimum: 70 cl
The bottle will be open if split minimum is reached only
The bottle is also shared in other forums. It is the time stamp that counts.
Sample prices:
05 cl: 8,00 €
10 cl: 14,90 €
Shipping with DHL from Germany incl. packaging material :
Germany: 3,50 € (without tracking and uninsured), 6,00€ (insured)
Please ask for Shipping in other Contrys
Conditions:
Payment by bank transfer only, no PayPal available
With a participation you confirm that you are at least 18 years old and accept the stated conditions
The shipping risk is borne by the recipient
The buyer bears the risk of damage.
No profit intention on my part
The sample bottles are carefully packed by me for shipping
As this is a private sharing, there is no guarantee, no right of return and no right of withdrawal, but it is assured that the samples contain the desired content.
Samples will be shipped after receipt of payment (only bank transfer, NO PAYPAL)
Offer subject to possible errors
A measuring cylinder is used for precise measuring, but deviations of 0.1 cl in one direction or the other cannot always be avoided.
I reserve the right to re-offer unpaid samples.
Participants:
5 cl Oliver
5 cl Basti
10 - 20 cl FocusUwe
5 cl Jarek
10 cl Jakob
5cl RumTaTa
5 cl BjoernNi
5 cl Thunderbird
5 cl mto75
5 cl Chris2302
10 cl Serge
Rest 0,0 cl
.