Count me in (with an additional Neisson XO if this happens).
Interested in 5cl as well

Hi everyone,
I had some news today. One bottle is sure in the coming weeks (beginning of october but after the 7th). Maybe 2 bottles. I'll try to have the second one.
If 2 bottles, I'm in too… 5cl
I would here give the space to someone else, since i got a bottle of the 7 anyway, But if nobody wants will of course take the sample
I got the price, so I make the definitive post.
Still 3cl available for anyone who wants them, thanks to DunderHut, don't hesitate to tell if you want them.
I will have the bottle tomorrow.
Hi Rodolphe,
i would take the last 3cl if still available.
Would give my 3cl to you since I already had the chance to try it - let me know!
@Jakob I would take your 3cl

thank you
I forgot about this split and got a bottle instead.
My 3 cl is therefore available to someone else
I would gladly take them.

A new twist today! I got two bottles! They're at home.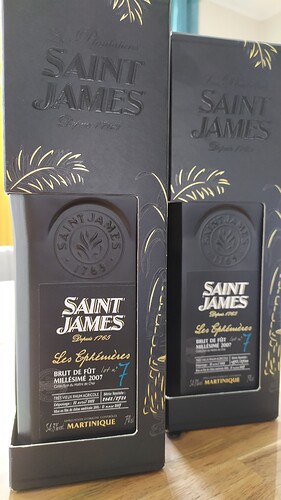 I'm going to give 5cl to each of you.
DrDjango I'll give you 10cl, you tell me if it's too much.
If any of you want more than 5cl, there are still some cl left!
I would like 5 cl, please

Rodolphe, I would also take 10cl, if possible
I would also take another 5cl (so it would be 10) if possible.
But only if there are not more people who want 5cl….
in case some is left from the second bottle, I am happy to go up to 10cl
Fertig! Perfekt!


I'll send a mail quickly to all participants