Clairin Ansyen 41mo Casimir SC
#CA17BT-1

EX-WHISKEY

54% ABV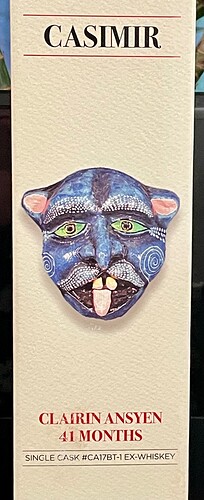 German Rum Festival exclusive, no RumX ID yet
Quantity to split: 12 samples
Minimum to split: reached
5 cl Sample price: 5,43 € *
*1,09 € / cl; base price for calculation 76 € which includes all extra cost of 1,50 € per sample (a 70 cl bottle equals 14 samples) excl. shipping - see conditions
Shipping cost:
Germany (tracking, lost insurance up to 500 €): 5,49 €
Germany (Maxibrief): 2,75 €
EU (tracking, lost insurance up to 500 €): 13.99 €
max. 5 samples per Maxibrief and many more samples per insured package (please ask if packaging material is available for orders above 12 samples)
Payment Conditions:
Samples will be shipped after receiving payment (PayPal family and friends preferred; SEPA/IBAN optional).
General Conditions:
With a participation you confirm that you are at least 18 years old (Germany) or of legal age to buy and drink spirits in your country and accept the stated conditions.
I do not gain a profit from the sample price since the aforementioned extra cost for sample bottles, packing material, parafilm, labels, eventual shipping cost I paid myself are added to the purchase price of the bottles I share (some bottles I share are purchased from auctions - foreign currencies are converted on the day of purchase). Please note that due to bottle availability and other necessary "sharing raw materials" I increased the additional cost from 1,25 € to 1,50 €.
Only posts that are "liked" are confirmed samples.
As a private person I can not offer any guarantee/warranty and right of withdrawal especially since all samples are individually bottled for you.
Storing samples is free, however payment of the sample price without shipping in advance is mandatory. Please note that storing a sample for a very long time (several months) will change the taste of the rum.
I recommend to store samples in a dark, not too humid or dry environment, around room temperature if you don't want to taste them immediately.
Confirmed Participants:
TheDunderHut
SaibotZtar
Flo1977
Mariano56
Jarek
MrRumantic
Alex_Kunath
BavarianRumLover
VERSUS
Thomas_W
JBDombes
Danny_the_nose
Additional Samples and Bottles (stored samples get a discount of 20% on orders from 100 € and above excl. shipping):
https://community.rum-x.com/t/de-eu-chris-sample-list/373