This is a PRE-SALE of this niche set. I have the opportunity to source this two bottles that i'd like to open and share with you guys.
If those bottles become unavailable or the minimum for the split is not reached, the split will be (unfortunately) cancelled.
THE WILD PARROT - CLARENDON 2007 15y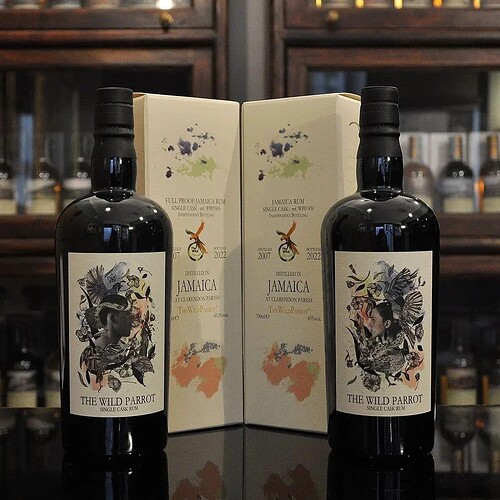 From the Facebook page:
"More than 3 years ago we decided a life-changing for these 2 sister casks…
From refill barrels to 2ndfill sherry cask came from #hiddenspirits stock, we waited patiently the right time to get bottling. Now we are really happy to show you the results. 2 rums distilled in Jamaica at Clarendon Parish, vintage 2007, the first one bottled at cask strength and the second one at 45% alcohol by volume.
Worldwide available from end of March"
Purchase price of bottle: 450 € (2x70 cl) [price confirmed]
Quantity to split: 60 cl each bottle
Sample prices:
1 set of 5cl: 32 €
1 set of 10cl: 64 €
Shipping cost:
Italy (tracking): 9 €
EU (tracking - UPS): 14 €
max. 9 samples per package
Payment Conditions:
Samples will be shipped after receiving payment (PayPal family and friends preferred; SEPA/IBAN optional).
General Conditions:
By ordering samples confirm that you are at least 18 years old (Italy) or of legal age to buy and drink spirits in your country and accept the stated conditions.
I do profit from the sample price; the only extra costs that are added to the sample are for the bottles, packing material, labels.
Availability cannot be guaranteed, please always ask first.
Samples are already bottled and sealed with auto-locking caps.
As a private person I can not offer any guarantee/warranty and right of withdrawal.
Storing samples is free, however payment of the sample price without shipping in advance is mandatory. Please note that storing a sample for a very long time (several months to years) may change the taste of the rum (to the better or worse, depending on the rum).
I suggest you to store samples in a dark, not too humid or dry environment, around room temperature if you don't want to taste them immediately.
If available, you might order multiple samples of the same rum.
Sample List: Stylo Sample List - Google Tabellen
Participants:
personal share 1 set of 10cl
Tojo 1 set of 5cl
Jarek 1 set of 5cl
Tschusikowsky 1 set of 5cl
Jakob 1 set of 5cl
TheDunderHut 2 set of 5cl (via mail)
FocusUwe 1 set of 10cl
Friend of mine 1 set of 5cl
Quent187 1 set of 5cl
Remaining: 10cl each bottle