Version 10.07 ist die aktuelle, die ruckelt!
kann das ruckeln auch nicht bei 10.0.7 nachvollziehen…nur geringfügige Ladeverzögerungen. Aber das war bei mir auch schon so bei der Beta und der alten App

Ich mache mich weiter auf die Fehlersuche. Ist aber gar nicht so leicht einzugrenzen, da das Problem nicht bei allen iOS-Geräten auftritt. Ich bleibe am Ball!


Vielleicht hilft das ja: die Beta-Version lief einwandfrei! Flüssig und komplett ohne ruckeln.
Bei mir nicht, hatte das seit der letzten beta Version dasselbe Problem schon.
Danke für Euer Feedback! Ich habe einen neuen Thread zur Fehlereingrenzung erstellt:
Im finalen Update habe ich Probleme bei den Benachrichtigungen. Es steht dort an einigen Stellen "unknown rum" bei den Mitteilungen zu Likes und wenn ich darauf klicke kommt die Meldung ein Fehler ist aufgetreten.
I wanted to use a little bit before giving you my feedback. Here it is :
sometimes I see pictures of bottles with the round selection and sometimes normal : when there is the round selection, that cut some pictures.

I'm not sure is it interesting to see all informations of the bottle tasted in Xchange : due to that, we have to scroll a lot to see last tastings. If someone want more information, just have to click to see it (nose, taste, comment, etc…). Same for ID number, even the country that we see just before real needed information (before distillated date, age, etc…). the best for me for a quick view was like it was before : main information then the rate in color. Like that we can see 3 or 4 tastings in one page before to scroll down.

One very good point is price in auction and price from members : but I still miss the possibility to add link to shops myself.

For blogs in a bottle page, maybe to add the name : picture of the blog doesn't talk to everybody (like me in fact, I don't know them, only their names)

We don't see anymore the Full Proof or not information

It was also something "missing" in the V1 but I have added bottles in my collection and I go back to page, nobody have it in collection (so me even). Do you have something to do by yourself to update that ?

It should be nice to see all new bottlings added (like last week or last month) in a list inside Xplore : I do have brand new bottlings and I don't find them. I'm not enough expert to add bottlings inside the database so I wait them (Foursquare 206 Swell for example or Vieux Sajous 2017 sherry). It will be nice also to check all new bottlings easily to decide if I buy it or not.

When there is a cask number, in Xtend, I see the number without # before on the resume. When I click for details of the bottle, I see twice the cask number : one clasically and one with #. I think it is better with # but of course only once (for example cask 73 for RX11374).
For intance, that's my feedback : should have other points to see but later surely.
Ich bin mit der neuen App ganz glücklich (danke @Oliver !).
Eine Verbesserungsmöglichkeit möchte ich für die Xchange-Ansicht vorschlagen. Ich habe auf meinem Androidgerät die Schriftgröße 2 Stufen größer als der Standard eingestellt.
Das verkraftet die App ganz hervorragend.
Allerdings passt der Name und die Details des Rums meist nicht ganz neben das Bildchen. Da rechs und links von der Bewertung aber noch viel ungenutzter Platz ist, möchte ich vorschlagen die Elemente anders anzuordnen, z.B.
Bild, durchschnittliche Bewertung, neue Bewertung, eigene Bewertung
Beschreibung
Beschreibung
Beschreibung
"technische Daten"
Grüße!
Vielen Dank für Deine Feedback, @RumTaTa!
Geht es Dir primär um die Darstellung der Posts in Xchange oder gibt es auch noch andere Bereiche wo die größere Schrift Probleme macht?
Im neuen Update v10.0.10 habe ich eine deutlich kompaktere Darstellung für den Feed implementiert. So passen nun auch mehrere Posts auf eine Screen-Seite und der "ungenutzte" Bereich wird minimiert.


Hello @Forrest,
thank you very much for your detailed and valuable feedback! I went straight to work and improved the following points in the new update (v10.0.10):
The bottle photos are now not cut in a circle but get a rectangular shape.
A more compact display of the tastings in the feed, so that there is a better overview.
When showing blog articles, the blog name is now also displayed.
Expanded rum details now again shows whether the alcohol content is CS or FP.
For better orientation, all barrel numbers now get a prefixed #.
About the other issues:
Store links currently cannot (yet) be entered by users. The moderation effort is still too high and the danger is that there are many outdated or wrong offers in the database over time.
For performance reasons, the statistics for the community collection are updated asynchronously once a week.
I have put the listing of the new entries of the database on my roadmap.
Thanks again for your great feedback! Please feel free to get in touch if you notice any other issues or if the implementations I've made can be further improved


.
Seems already nice these improvments. I'll get to you if I see something else. Nice job, thanks.
Hallo Oliver, mir sind keine Fehler mit der skalierten Schrift aufgefallen.
Der einzige Nachteil ist, dass die textuelle Beschreibung oft "abgeschnitten" und damit manchmal mehrdeutig ist.
Deshalb mein Vorschlag die Anordnung so zu ändern, dass der Text die komplette Breite des Screens zur Verfügung hat. Das Bild und die Ratings würden dann nebeneinander stehen.
Edit: Mit "Text" meine ich die Daten zum Rum (Abfüller, Name, Destille, RXID, Vol%, …
Eine Andere Kleinigkeit ist mir aufgefallen: die Information, von dem die Verkostung stammt ist redundant: einmal ganz oben in der "Titelzeile" der Bewertung und nochmal unter der Bewertung (weißer Stran).
Danke für Deine Rückmeldung!


Im anstehenden Update v10.0.13 (siehe Anhang) habe ich das UI so umsortiert, dass leere Flächen minimiert werden und mehr Platz für größere Schriftarten ist.
Gib mir dann gerne Bescheid, wie Du die Verbesserungen findest und ob ich noch weitere Punkte optimieren kann.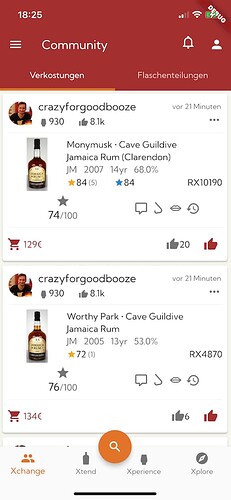 Ja, das sieht besser aus, danke!

Perfect
Perfect, I use to click on the logo but doesn't work : we have to click on the "Blog" word to see all of them, then we can read each ones. Maybe add a link when we click on the logo.
For links to shop, I understand but maybe you can moderate (like when we propose you changing to a bottle or another people you trust). Whatever time you take to add it. You can also let the possibility to propose you to remove the old ones : I use Whiskybase (maybe you know them) for whisky and that works.
Should be really great.
Also, we used to see different lists for auctions prices rather community prices : now it's only 1 list merging both.

Also, I think that an anonymous (not registred as far) will cannot rate rums.

And I still think to put 2 letters of the country of the bottle (like JM for Jamaica) is not really interested in the first look of the bottle (when we rate or we see it in collection or elsewhere) : if we want to see it, we can open details of the bottle. Better maybe to put a special place for the mark when available (ifnot nothing).

Is it possible also to clean a little bit to not seen monthes of the age ? The years only is OK.

Last point I've seen is about bottle without distillation date or I don't know what (like Navy Blend Velier) : there is a "&" at the beginning of what we see of the resume of the bottle. A bit weird.
Of course, still great job Oliver (I'm in 10.016)
Edit 1 : 2 other points.
another point is about the collection value. When there is link registered to a shop with price so, you take this reference to calculate the value of the bottle. I think the better is to take the last auction price cause, sometimes, there is a bi difference. For example Hampden Great House 2021 : the app use the price of 329,90€ from whiskytemple which is ridiculous instead of the last auction which is 166€ (almost half price). I think it will be more realistic.

I was thinking also about links we put inside topics like "Available rarities". These topics are not protected so everybdoy in the world can see it and just have to check it without registering there. I use to be part of another french forum (Whisky-distilleries) and the "business" part is hidden (sell bottles, share samples or information to find nice bottlings) to keep these information for people really invested in the forum.
Edit 2 :
There is also something not really importnat but, if it does exist, it rather goes well : when you are inside Your collection => Statistics, the statistics starts only with full bottle. We can click to add open bottles and even empt bottles which is nice to see how much we spent. But market value is also increasing with open and empty bottles which is not correct cause we can't sell it anymore. I think you just have to keep for the price paid but only figure out full bottle for market value.

When we are in Xtend (Collection or wishlit or even samples), is it possible to have a "regular" filter after the distillery filter ? I mean : if I have 15 Hampden, I will have always different places inside Hampden category. Maybe, after distillery, you can add distillation year or bottler or whatever you want, just to see them always in the same order (currently, my Great House 2020 is first and my Great House 2021 is last, which is a bit weird I think).
Hi Oliver,
die Aktualisierung läuft immer noch nicht so ganz rund!
Es werden bei mir immer nur die letzten 7 Stunden aktualisiert… danach kommt ein Sprung auf 18 Stunden!
Die dazwischenliegenden Verkostungen sind dann weg!
Gruß Michael
Schau ich mir direkt an!

You are right about this. Problems are for example VSGB bottles or in general bottles with more than one size. Also there are shops with prices out there which are just unrealistic for a market price. All this destroys the market value evaluation completely.