Hello, RumX Community!
At RumX, we are committed to continually refining our user experience based on your feedback and evolving needs. Over the past few weeks, we have diligently worked to enhance the user interface of our mobile app and incorporate a myriad of usability improvements. Today, we are thrilled to unveil this refined, user-friendly design.
One significant change you might immediately notice is the new basic structure at the bottom of the tab bar. Through diligent analysis of user data and your invaluable feedback, we have identified the most used and popular functionalities of the app. This has led us to design the following new structure: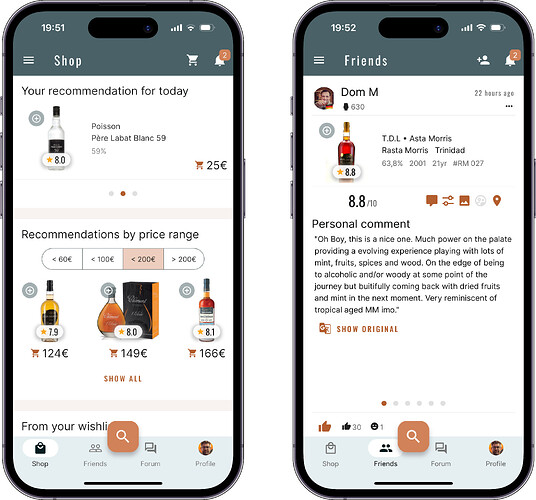 Shop: Here, you will discover personalized offers from our store partners, curated using machine learning based on your tasting notes and wish list entries. The daily fresh recommendations, selections by price range, available offers from your wish list, or rums with the best price-pleasure ratio are at your fingertips. Clicking on an offer will now take you to the new in-app shopping checkout, allowing you to manage all your purchases conveniently within the app. Moreover, every purchase supports the further development of your favorite rum app. We encourage you to explore and try out the enhanced shopping function.
Friends: Stay up-to-date with the latest tastings from your friends. Never miss out when a friend uncovers a new favorite rum or what rums are trending within the community. The "Find Friends" feature allows you to connect with other RumX users or invite your rum-loving friends to the app.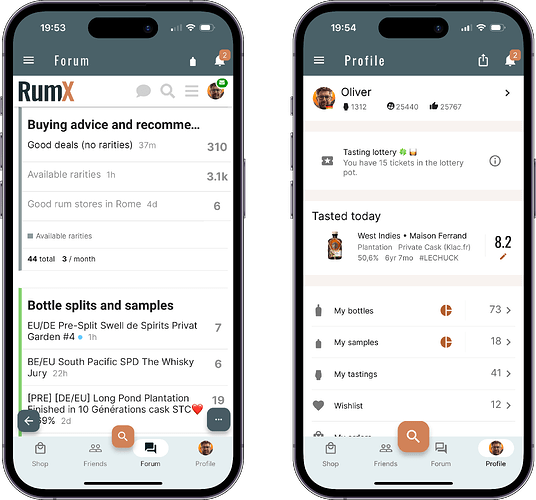 Forum: The RumX Community Forum remains a crucial part of the platform. Serving as a vibrant exchange platform, the forum allows our community to discuss rum trends, new releases, and share experiences. In addition, the forum is an ideal place to discover daily shared rarities from the community. Join the conversation and let the community inspire you.
Profile: The new profile view now consolidates your collection and tasting diary. By merging the "Collection" and "Tastings" areas, we've created more space for other features. Here, you can manage your wish list, create and share user-specific lists, and observe the market value development of your bottles. You can also manage your notifications to stay informed about new bottle divisions or to set an alert for "Available Rarities".
We invite you to download the latest update from the App Store and immerse yourself in the enhanced RumX experience. Your feedback is invaluable to us, and we eagerly look forward to co-creating the future of RumX with you. Our community is the lifeblood of RumX, and we are incredibly proud of the supportive and engaged community that has blossomed over the years.
Feel free to let us know about any features you would like to see in the app, or share any thoughts you have on the new layout. We appreciate and welcome all feedback.
Cheers to an enriched, more intuitive, and enjoyable rum journey on RumX!
Best Regards,
Oliver & Jakob