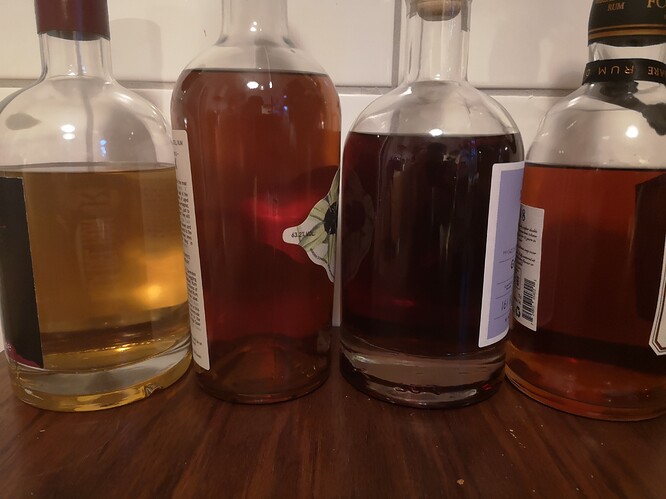 From the left to the right: Isla Del Ron Jamaica 12 Years, Sample X Clarendon 14 Years, S.B.S. Guyana 2003 17 Years, Foursquare 2008 12 Years
I recently bought a bottle which once again brought me to the question about color in rum.
In the picture, you see the usual shades of aged rum. The light, white wine color of the continentally aged Long Pond, the mahogany of the tropically aged Foursquare, and the dark brown of the caramel-colored Diamond.
The color of the Sample X Clarendon 14 is similar to the tropically aged Foursquare - but Erik Molenaar of Kintra (who bottled this rum) told me, that it has aged mostly in continental climate after a few years in the tropics. It rested in a first-fill bourbon barrel. There is cask sediment in the bottle.
How did the color get into this rum?
Of course, there are many other shades of rums with a red wine finish or due to heavily charred barrels. But none of this seems to be the case.
What does the color of a rum tell you about the rum? Does it tell anything at all? Is my hypothesis of associating darker shades with tropical aging too weak to prove?