Hi
Does anybody know this bottle? I couldn't find anything helpful…
Do you think it is still drinkable?
BR, Alex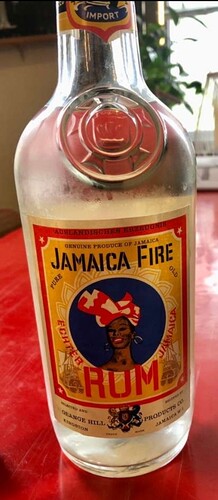 Only chance to find out is to drink it


It's not mine (yet)…

The name is suspicious similar to Rum Fire

That's what what came to my mind when I read the description. Might be related in some way ?
It's definitely drinkable. Everything above 17% is shelfstable for ever. This one certainly is.
The bottle is a german or austrian import as it states "Ausländisches Erzeugnis" on the label.
The label has probably been created after the independence 1962 because it states "Jamaica W.I." and not British West Indies.
Grange Hill is located in Westmoreland Parish. There is no recent distillery there. My guess is that it's a rum brand, bottling and exporting jamaican rum and buying from different distilleries. In 1965 there were only nine distilleries left, five of them are left today.
At @SCR is a table of the output of the distilleries in 1967: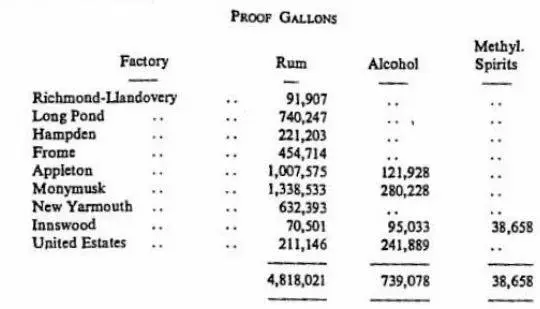 A quick research suggests that Frome might be from Westmoreland. There is a village named Frome next to a little town named Grange Hill in Westmoreland.
According to the tasting notes the Grange Hill rums were rather continental flavored, which meets with the german market export. Frome is know as one of the distilleries producing continental flavored rum back then. see https://twitter.com/cocktailwonk/status/1503806601232322562
Frome Distillery was closed in 1968, the Sugar Estate is still working (see google maps https://maps.app.goo.gl/cx5b2zjexjPzFMDs9)
So there is a chance that this Rum is produced by Frome. Dates and locations seem to match
A list of disfunct jamaican distilleries
There is a high res picture of the label here:
Some research on grange hill here:
https://www.reddit.com/r/rum/comments/nr2baz/grange_hill_jamaica_rum_unicorn/
and a review of an older rum here:
@lukasdrinkinghabits du solltest echt eine eigene Rumpedia Seite gestalten! Wahnsinnig informativ mal wieder. Danke
@lukasdrinkinghabits Danke. Sehr informativ

Coole Analyse, danke dir!
Did you buy the bottle? Have you opened it or are you planning to open it? I'm curious to know what the rum is like
The seller didn't respond anymore. Probably it was already sold…

That's a pity