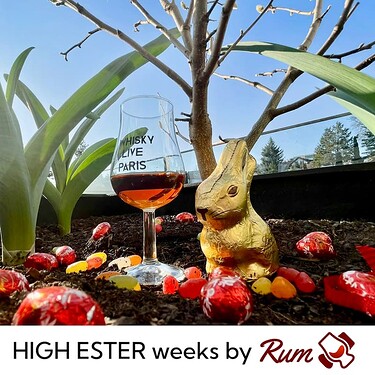 I'm sure you've all recovered from the sample madness of the RumX Advent calendar and are eagerly waiting for more. I am therefore very happy to introduce our next community project today:
The ESTER Weeks 2022 by RumX!



To sweeten the days around Easter, we have collected 12 funky rums for you and will bottle them again as a blind tasting calendar. I received huge help from @Adrian, @mto75, @Chris and @Jakob in the planning and execution of this event. Without you such an initiative wouldn't be possible. A thousand thanks to you!

The calendar will contain 12 samples (each 2cl), which have one theme in common: Esters!
In the selection of rums, we have placed special emphasis on the fact that exciting, exotic and above all diverse rums are in the calendar.
Our self-cost price per calendar is 64€ plus shipping (DE: 5,99€, EU: 15,99€ for insured shipping). Since we have again collected some rarities the calendar is limited to 34 pieces. The resolution of each calendar door will be, as with the RumX Advent Calendar, here in the forum at 21 clock in separate threads. So the guessing fun is guaranteed again!
If you want to grab a calendar just comment below this post with: "Count me in!". The activation of the comment function below will take place on 27.03.2022 at 9 pm (CEST). As always, first come first served!


Participants:
Adrian
mto75
Chris
Jakob
Oliver
…