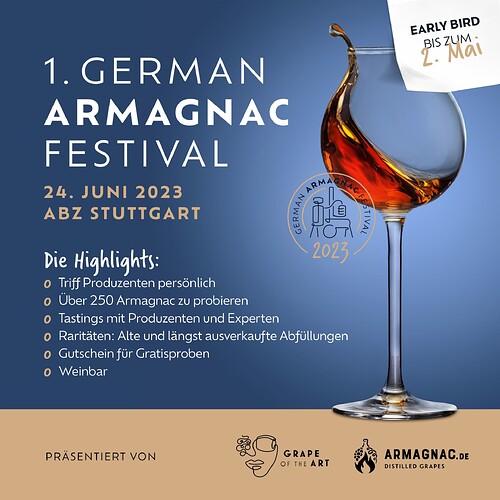 Dear RumX Community members,
We hope you're enjoying the May Day holiday! We'd like to remind you that tomorrow, May 2nd, is the last day to secure your Early Bird tickets for the 1st German Armagnac Festival happening in Stuttgart on June 24th, 2023.
Although the main focus is on Armagnac, the event will also feature exciting rum offerings from renowned experts. Angus MacRaild from "Rum Sponge" will be present with his rum releases, while Mika from Swell de Spirits will showcase his outstanding rums. Additionally, you can look forward to the Wu Dram Clan releases, including the new Long Pond LPS 2001 (RX15770)!
Don't miss this opportunity to immerse yourself in the fascinating world of spirits, expand your tasting horizons, and join an exciting community of connoisseurs and explorers!
Get your Early Bird tickets for just €15 and be a part of this unique tasting experience. Remember, the offer ends tomorrow.
Book now: www.armagnac.de/festival
We'd be delighted to meet some RumX Community members in Stuttgart and possibly even organize a small community gathering where we can show you around Stuttgart.
Looking forward to celebrating the joy of Armagnac and rum with you this summer!