Purchase price of bottle: 298€ (25cl)
Quantity to split: 56cl (14x4cl)
Sample prices:
4cl: 48,00€
Shipping (incl. new sample bottles, labels):
Germany: 5,50€ (insured)
EU: 16€ (insured)
Conditions:
With a participation you confirm that you are at least 18 years old and accept the stated conditions
No profit intention on my part
The sample bottles are carefully packed by me for shipping
As a private person I can not offer any guarantee/warranty and right of withdrawal
The buyer confirms that he is at least 18 years old (legal drinking age)
Samples will be shipped after receipt of payment (bank transfer)
Participants:
DomM
DomM
DanielS
FabiDram
Mariano56
Lot-NAS
MoparRules
MoparRules
KennyOMG
mto75
MrRumantic
Vinsdorf
Pi_ig
14.TheRhumHoe
https://www.rum-x.com/rums/16875/
Additional informations:

Rare Vintage UK Navy Rum Flagon from 1953 - A Piece of Nautical History!

Discover a true piece of maritime history with this vintage UK Navy Rum dating back to 1953. This unique artifact offers a glimpse into the past, providing a direct connection to the naval traditions and practices of the time.

Key Features:
SRD: Supply Reserve Depot: This flagon once helds a "SRD" staple from the British Royal Navy stock.
Taunton Stock for Navy Rum: The rum inside this flagon was sourced and stocked from Taunton.
O.H.M.S / On Her Majesty's Service: The marking "O.H.M.S" symbolizes the dedication of those who served Her Majesty during that era.

Specifications:
Volume: Originally filled with Old Imperial Measurements, equivalent to approximately 4.55 liters or 8 UK pints.
Alcohol Strength: Labeled as 4.8 U.P. (100-4.8 underproof), which translates to 95.2° proof or 54.4% alcohol by volume. This information takes you back to the alcohol strength system used in the UK before 1980.

Provenance and Inspection:
J. Read, Controlling Officer: The flagon bears the name of J. Read, the controlling officer responsible for this valuable cargo at that day. This adds an element of personal connection to the historical context.
Last Inspection: The last documented inspection of volume and ABV took place on August 20th, 1953.

A Glimpse into Naval Heritage:
Experience the spirit of the sea and the legacy of the British Royal Navy through this authentic 1953 Navy Rum Flagon. Whether you're a history enthusiast, a collector of rare artifacts, or simply intrigued by the maritime world, this flagon holds a story waiting to be shared.
Don't miss the chance to try a piece of nautical history from 1953 and embark on a journey through time and tradition.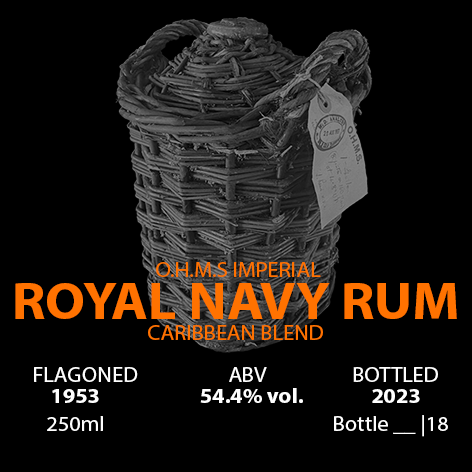 Video of the opening is too big for
here, can be provided