New Swell. Their first agricole.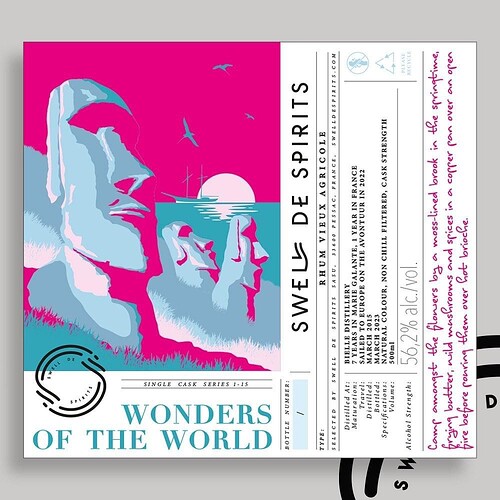 We are super excited to announce our first ever Agricole Rhum.
Distilled in Marie Galante at Bielle distillery, the cask travelled from the Caribean island to France on a sailboat. Once here we left it a little longer for some continental ageing!
7 years in Marie Galante and 1 in France, it is a gorgeous dram from 2015 bottled at cask strength with hint of menthol, honey and waxy notes. After some breathing, the aromas make themselves known.
It's well balanced with a great alcool intergration.
Bielle lovers will be satisfied !
Notre premier Rhum Vieux Agricole et quel début ! Distillé à Marie Galante à la distillerie de Bielle, ce fût est parti des Caraïbes en direction de la France sur un voilier et a subi quelques mois de vieillissement dynamique !
7 ans sur Marie Galante et 1 an en France, c'est un dram magnifique de 2015 embouteillé au degré naturel avec son côté mentholé, ainsi que des notes mielleuse et de cire, après quelques minutes d'aération il offrira beaucoup plus d'arômes !
Il présente un bel équilibre avec un alcool remarquablement intégré.
Stay tuned!
#wondersoftheworld #swelldespirits #rhumvieuxagricole #mariegalante #bielle #caraibes #canneasucre #rhumagricole #spirits #discovering #happy