if you are interested in the Caroni book's state of play, you can also follow him on FB
ich melde mich vorsichtshalber hiermit schon mal für ein oder zwei bücher an
@Oliver da der Buchdruck ja scheinbar gut voranschreitet, gibt es schon Details zur Vorbestellung? So wie ich das verstehe, wird das ein ziemlich stattliches table book, im zweiteiligen Schuber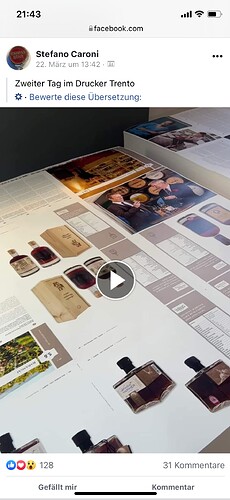 Wow, für uns dann das Alte und Neue Testament.
#Minimalist Tiki:
Kennt vielleicht jemand von euch (gar inländische) Bezugsquellen (abseits von US/Dänemark)?
Ich glaube, vor ein, zwei Jahren (?) gab es einmal in irgendeinem Forum eine Sammelbestellung. Leider hatte ich die "verpasst"…
Ich habe meine Ausgabe bei https://www.zeewijck.nl bestellt. Gerade haben die aber keine Exemplare da. Hab das da zweimal gesehen. Einmal erste Auflage, einmal zweite Auflage. War aber trotzdem absurd teuer, weil 45€ zzgl. Versand aus NL. Hat sich aber gelohnt, ist ein super Buch.
Durch die Partnerschaft mit Steffen (u.a. ist bei jeder Abfüllung ein QR-Code abgebildet, der euch direkt zur entsprechenden Detail-Seite in der RumX-App führen wird) werden wir die Subskription des Buchs durchführen. Ende April werdet ihr euch dann exklusiv über die App ein Exemplar dieser epischen Caroni-Bibel vorab zum reduzierten Vorbestellerpreis sichern können, bevor das Buch offiziell in den Handel kommt. Details folgen dann in den nächsten Wochen.


Soviel kann ich schon verraten: Das Buch wird der HAMMER!

MUST HAVE caroni bible


Is there also some information available for those without a Zuckerberg account? That video looks promising, but can't access it on his page.
I am afraid, I don't think so.
The exclusive book subscription through RumX will launch on April 25…


For the launch, we will also publish detailed background information here, such as an interview with Steffen.
Wenn ich es richtig mitbekommen habe, dann soll das Buch wohl so um die 300 € kosten
.
Since the subscription serves to pre-finance Steffen's book, there will be a small price advantage for those who will pre-order the book via the limited contingent of RumX. Details will follow on April 25th at the latest.


As a bonus, all books sold via the RumX contingent will be signed by Luca.

Right, Olli???
…or by all those 'Dicky', 'Sarge', 'Breeze' … of the employee series

The wait is over:


Hi Oliver, der Link leitet mich nur weiter zur App, aber dort nur zu den neusten Verkostungsnotizen.
hast du die neueste App Version (10.6.9) installiert? Ich musste auch ein Update machen, bevor ich auf die Seite kam (im xplore tab)
Ja, das war der Grund, danke.