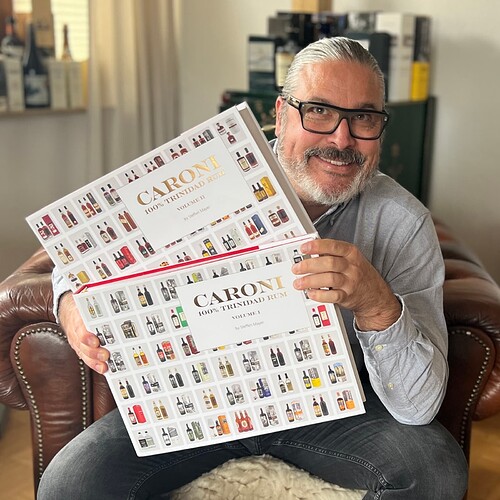 We are very happy to announce the partnership between Steffen Mayer and RumX today!
We met Steffen at the German Rum Festival in Berlin in 2019 and felt directly connected. In addition to a friendship, a partnership between his epic Caroni book and your favourite rum app has also developed over the past few months. So you will find a QR code for every Caroni release in the book, which will lead you directly to the corresponding rum in the RumX app. By offering this, we create an interactive bridge between the analogue reading experience and the tasting impressions of the fast growing RumX community.
We are thrilled to be part of this very special project. Since Steffen doesn't run an own online shop, we act as the official subscription partner and organise the process to support him with the pre-financing of the book. From now on you can officially pre-order his work "Caroni - 100% Trinidad Rum" via RumX. You can find the form within the app in the tab "Xplore" (from version 10.6.8). The invoicing and shipping will then be handled by Steffen Mayer.
All texts in the book are translated into English, French, Italian and German.

Click here to pre-order from our partner Armagnac.de with worldwide shipping.
What insights do you get from the book? Here's a quick appetiser from Steffen:
This exceptional book is the result of five years of full-time research and shows the demise of the sugar cane industry and the Caroni distillery in Trinidad from different perspectives: from the people, from key employees, from Angostura - the last remaining distillery in Trinidad - from Luca Gargano, who rediscovered the incredible stock of barrels, and Carsten Vlierboom from E.A. Scheer, who valued the barrels in 2000. But this work is much more. It explains the production of rum in general and the differences at Caroni in a way that is easy to understand for every reader. It reveals the last riddles of the distillation plants of the Caroni distillery. In addition, it sensitises the rum collector with regard to many questions, starting with the acquisition and storage of bottles and ending with the recognition of counterfeits. The reader will find illustrations of all known original Caroni bottlings before the closure as well as all bottlings after the company's closure. They are supplemented by a lot of additional information, such as the correct bottle numbers of the releases, which many are eagerly awaiting, and background information on the independent bottlers. This work comprises 1136 pages in a 36-cm landscape format. The two volumes in a slipcase weigh a total of 9.4 kg and were produced in Italy in the highest quality.