Hey Mike,
Can you tell me which rum could fit perfectly to a Behike 54?
That's not an easy question to answer. I would say most Spanish style rums. It would depend on the boxing date of your Behike, the early ones (2010 to 2012) were much stronger than the ones that came after these years. I find that most English style rums overpower cigars and I'm still trying to find some rums that don't as I'm not a big fan of the Spanish style anymore.
Things were easier in the past when I only drank sweetened rum as nearly all of them make for very good companion to cigars.
Thank you! And no, mine are newer ones, from this year.

Picked them up directly in Cuba. Unfortunately, this is not possible anymore, my friend who worked in the factory flew to the USA like more and more Cubans.

I'm sorry that I can't be of more help as I really struggle to find the perfect rum for a pairing.
I tried a Doorly's 14 years the other day and it should go rather well with a cigar even though
the rum is nothing to write home about.
Yes, it's crazy how many Cubans have been leaving since Covid. I have a friend who spends a few months every year and Cuba and he told me that the living conditions have never been as bad as they are at the moment.
I can only comment on the earlier Behikes, I have tried the 52 and 54. The 52 was actually more to my liking. It was one of the best cigars I have tasted so far. It had such incredible nuances over the whole smoke. The 54 was more powerful (due to its larger size), but did not come with the flavour spectrum of the 52. To be honest, for those calibers, I would simply prefer a glass of water, in order to get all nuances. Often, as mentioned by Mike, stronger rums, tend to overlay the cigar taste.
More generally speaking, I find that navy rums go well with cigars, but also HD medium range, e.g. LROK work well.
I hope you're not implying Spanish style is sweetened

Did you try the newer version of the El Dorado 15yo? They add way less sugar than before.
The Havana Club Union is a (maybe too) obvious pairing, but unfortunately it's priced like a marketing joke. I read that it works, though. Has anyone tried it?
Way less? Nothing as far as i know. The 12yo has 9g sugar.
Nothing is also "way less"


I'm not 100% sure if they dialed it down to zero, haven't seen a reliable source on this so far. But my tastebuds confirm it must be very little – if any at all. But I also think that I'm not able to detect added sugar when it's in the lower single digit numbers.
In my very limited experience in pairing rum and cigars, I found the Sansibar 12 y/o Panama very fitting.
I would think that a lot of Panamese Rums could be fitting for these pairings and most of them also dont come sweetened.
Havana Club Union goes really well with most Cuban cigars!
Thank you all!
I will first give it a try with the almost completely unknown RX10772.

No, I was referring to the Spanish tradition rums that I drank for years and should have clarified that. All of these have sugar added and I find it difficult to take a step back to most of these rums although they pair very well with rum.
I did not try the El Dorado 15 years. I'll see if I can sample it at my rum store.
Tonight I'm enjoying a El Rey del Mundo La Reina with a glass of Depaz 2004.
The cigar was a 2017 regional edition for the UK that was released in mid 2019. It's a Laguito No.1 (Lancero) vitola that was exclusively rolled at the El Laguito (Cohiba) factory. Boxes were ridiculously expensive when the cigar was released but when one compares the price of a box to what cigars (especially high end ones) cost nowadays they were actually rather well priced. The cigar is still quite young but I like to sample one from time to time to see how it evolves. El Rey del Mundo cigars have legs for years, even decades and they develop into light but extremely complex cigars. Those familiar with the Grandes de Espana will know that.
As this is a medium strength skinny cigar it has to smoked slowly so that the cigar does not overheat. I needed a good rum to go with it. My choice was the Depaz 2004 as agricole rum does not overpower cigars in a way most English tradition rums do. But agricole rums are a two sided sword for me because I don't like the vegetal ones a lot. After reading the reviews on RumX I decided to go with this one and I do not regret my choice.
The woody and fruity flavors go almost perfectly with the cigar. The citrus taste is very pleasant as are the chocolate notes in the finish. There also is a light sweetness present that marries very well with the taste of La Reina.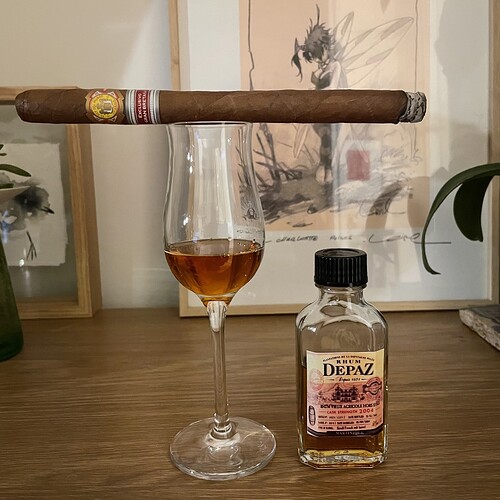 great review! I don't know this ER from UK but I liked El Rey del Mundo for their good price to quality (I always felt that in the Habanos Pyramid they were actually a bit above their positioning). My favourite was rather the Choix Supreme (Robusto) which is a bit easier to handle

I usually find Agricoles do not get on with cigars particularly well, although there are exemptions. Did you already try some of the Chantal Comte La Tour de'l Or. They are a great companion to Habanos cigars in my opinion.
I agree, El Rey del Mundo are or were above their positioning in the Habanos portfolio. Sadly most of the vitolas were discontinued. I didn't have the chance to try all the old ones that were discontinued in the early 2000's and before but the ones I had (Petit Coronas, Tainos, Grandes, Lunch Club and Coronas de Luxe) were all outstanding cigars. I like the Choix Supreme a lot as well as the only other cigar that is still in production: the Demi Tasse (which is tiny but very tasty). There will be a new one soon, the Royal Series, an LCDH special release but I don't buy these any more because of the high price. It really is a shame that Habanos SA axed so many cigars of the lesser known brands.
I'm no specialist when it comes to Agricoles but there are a few that go rather well with cigars in my humble opinion. I have been looking for a sample of the Chantal Comte La Tour de l'Or 2001 as I have heard many great things about it. If I manage to find one I'll definitely have a cigar with it.

Enjoying my fruity rums paired with Romeo y Julieta (Romeo y Julieta - La Maison du Cigare) its a Nice mix of flavors.
Or Churchills with spiced rum, or with Old Fashioned style cocktails.
ich würde dieses Thema gerne nochmal aufgreifen. Ich arbeite mich gerade in das Thema der Zigarre ein und besonders die Kombi mit Rum ist ja traditionell sehr spannend! Gibt es hier aktuell aficionados, die sich gerne die Zeit nehmen und sich dem Tabakgenuss hingeben? Ich war heute noch in Düsseldorf bei Cigarworld - unglaublich spannend!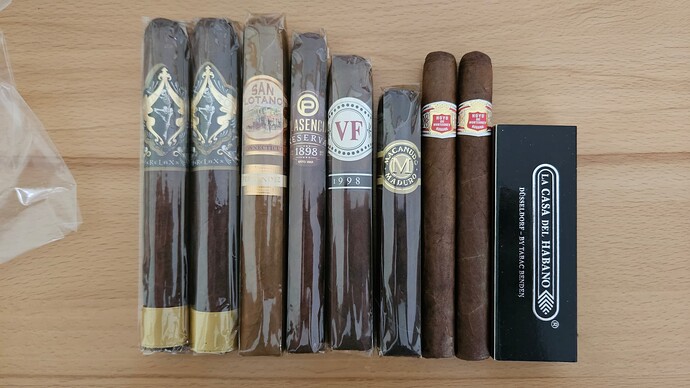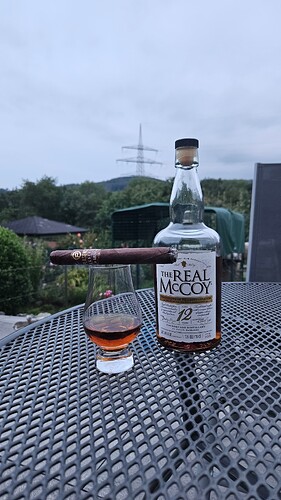 Ich habe vor ein Paar Jahren auch ganz gerne Zigarren geraucht, muss aber sagen, dass ich das in Kombination mit Rum immer nicht so besonders toll fand. Die Tabakaromen wurden für mich persönlich immer von den Rumaromen erdrückt und umgekehrt genauso. So hat mir beides separat immer sehr gut geschmeckt, kombiniert aber nur halb so gut. Mit sehr leichten dominikanischen Zigarren ging das noch, schwerer kubanischer Tabak killt aber imho einen Großteil der feineren Rumaromen.
Ich bin das allerdings auch nicht wirklich "professionell" angegangen. Wenn du gute Kombinations-Tipps hast, lass gerne mal hören.
ich bin seinerzeit witzigerweise über die Zigarre zum Rum gekommen. Im Frankfurter Hof gab es eine tolle Lounge bzw Kaminzimmer, das 'Cigarrum'. Dort hatten sie nur Zacapa & Co. Ich finde aber nach wie vor, dass die (eher leichten) Spanier am besten zur kubanischen Zigarre passen. Gut passt zB der 26yr Cadenhead Dictador…bei einer teureren Limitada oder ER bin ich aber einfach bei einem Glas Wasser. Da möchte ich die Leder, Erde, Holz etc Noten der Zigarre 'unverfälscht' genießen.
Cigarworld (Tabak Benden) ist klasse! Im September haben sie dort wieder die Hausmesse…
Ich taste mich jetzt auch erst wieder langsam an das Thema heran. Hatte bisher eine American Classic von Alec Bradley, das war für mich eher so gar nichts. Gestern die Plasencia Reserva 1898 Robusto mit dem McCoy war eine herrliche Kombination! Die fruchtige Süße hat mMn die kräftigen Aromen der Zigarre super gestützt und umgekehrt.
Meine allerbeste Kombi JEMALS war eine Montecristo Edmundo mit einem 40j Portwein. Das war allerdings in der Floridita Bar, Havanna de Cuba und Olivier Vierra hat decantiert. Den Typen und den Abend werde ich mein Lebtag nicht mehr vergessen