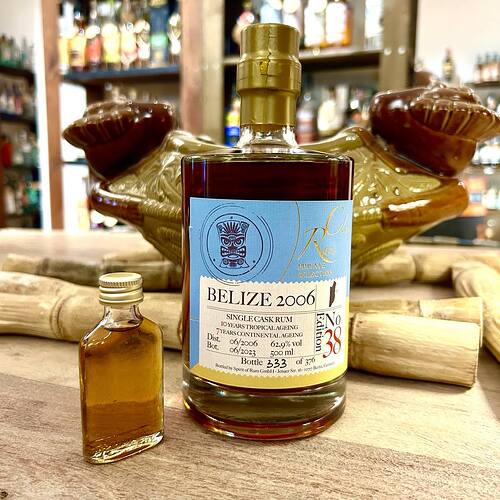 Hey RumX Community!
we have some delightful news to share today. In an exclusive collaboration with the renowned independent bottler Spirit of Rum, we're bringing something special to the table.
To celebrate the imminent launch of "Edition No. 38", Spirit of Rum has graciously provided us with a bottle of this exceptional rum, with the idea of sharing a taste with our beloved RumX Community.
A Bit About The Rum:
Originating from the Travellers distillery in Belize, this gem was distilled in 2006 and boasts a dual aging process: 10 years in tropical climates followed by 7 years in continental conditions, totalling 17 exquisite years. From this single cask, 376 bottles (0.5l each) were produced.
When we got in touch with Dirk Becker, the head behind Spirit of Rum" he shared an interesting insight on selecting this cask:
We initially had 6 sister casks in consideration, but only one truly stood out. It was distinctly aromatic with all flavors beautifully integrated. It tantalizes the palate with an overwhelming sweetness, though surprisingly, it has only 0.3g sugar as per lab analysis. With some time in the glass, you get delightful Bounty notes - a luscious blend of coconut and chocolate. Initially, there's an essence of exotic wood, slightly reminiscent of Amburana, and a broad spectrum of dried fruits spread across the tongue.
Where to Purchase:
Keep an eye out at your regular online rum stops by the end of next week. And, of course, you'll find it featured in our new RumX marketplace.
How Can You Get An Early Taste?


Want to be one of the first to experience this new release? It's simple. Drop a comment below naming your current favorite Spirit of Rum release.
We'll be randomly selecting 23 lucky commenters on Sunday at 10pm, who will each receive a free 2cl sample of the brand-new rum from "Spirit of Rum". Thanks to Dirk and the team for this great collaboration!
Terms & Conditions:
Participants must be at least 18 years old.
A valid delivery address within Germany is required for winners.
Best of luck to everyone! Let the rum magic begin!