Greetings, RumX Community!
TL;DR: Introducing the new In-App Shopping feature on RumX! Shop from over 900 rums directly in the app. Your purchases support RumX's development. Give it a try and share your feedback. Happy shopping!
From a Niche Tool to a Global Platform
From its humble beginnings as a niche tool for rum enthusiasts to keep track of their collection and tasting notes, RumX has rapidly evolved into a global platform, where rum lovers can connect, learn, and share their passion for all things rum-related. Over the past year, we've significantly expanded the community aspect of the app, adding a follower system and launching the RumX Forum, seamlessly integrated into the app.
Enter the Integrated Marketplace
Now, we are set to open a thrilling new chapter in the RumX universe: the integrated marketplace. Previously, our app provided information on available rums from our store partners, along with pricing, and redirected users to individual store websites for purchase. However, we're constantly striving to enhance your user experience and are excited to introduce the new In-App Shopping feature.
Streamlining the Shopping Experience
You can now complete your entire purchase within the RumX app, using your existing account. This simplifies the process, eliminating the need to create multiple accounts across different shops. We've taken your feedback onboard, refining the checkout process to ensure a streamlined, high-performance shopping experience.
Why Choose RumX?
So, why choose to purchase your rums via RumX? The answer lies in our unique combination of the world's largest rum review portal and an integrated marketplace. Not only can you gather extensive information about a rum - its ratings, flavor profile, and community opinions - you can conveniently compare prices and buy directly via the app. Each purchase is automatically added to your collection, creating a seamless experience and enhancing usability.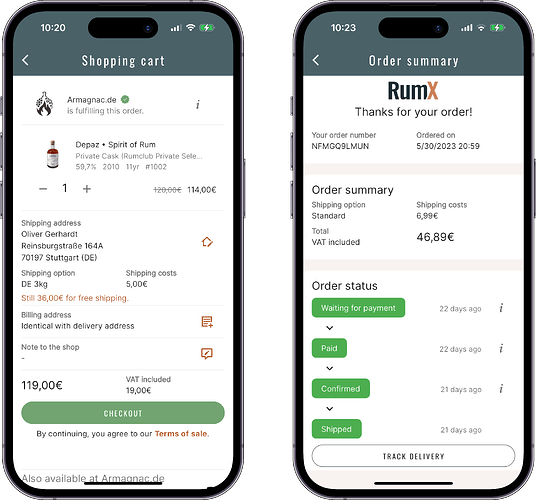 Supporting RumX's Continued Development
Plus, every purchase directly contributes to the continued development of your favorite rum app! Over the past weeks, following our pilot partner Armagnac.de, we have onboarded five more store partners to the new In-App Shopping model. This has significantly broadened our selection, with over 900 rums now available for purchase.
Try the New Feature Today
We invite you to download the latest version of the app and experience the new In-App Shopping feature for yourself. To start you off, we've selected five superb rums available for direct purchase via the app:
These are just a taste of the wide range of options awaiting you in our newly expanded marketplace.
We Value Your Feedback
We believe that the RumX In-App Shopping feature is set to revolutionize your rum purchasing experience. Try it out and let us know your thoughts. After all, you, our community, are at the heart of every enhancement we introduce.
What do you love most about the new In-App Shopping feature? What improvements would you suggest? Start a discussion below and let's shape the future of RumX together!
Cheers to a more unified and delightful rum shopping experience on RumX!



Oliver & Jakob