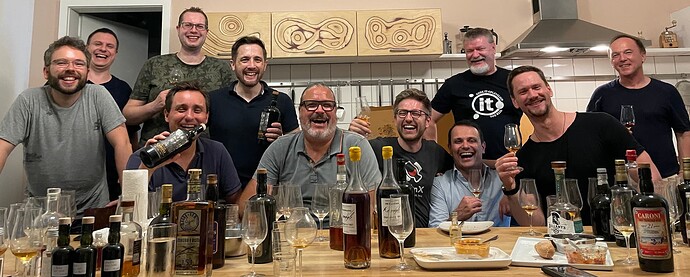 Hello RumX Community,
We're excited to announce that we have been planning a unique experience for our beloved members. We've received numerous messages hinting at a desire for a warmup event to kick off the "12th German Rum Festival" in Berlin, and we're pleased to confirm that it's happening!
We are giving away 7 exclusive seats for the RumX Warmup Party set to take place on the eve of the festival, July 7th. The event will be held in an exclusive setting in our AirBnb apartment near the exhibition area. It promises to be an unforgettable night starting at 7 pm with an exclusive surprise tasting lineup, curated specially for this event, featuring top-notch rums.
Following this, we'll transition into a more casual affair with a "bring your own sample party", sharing fine drops and rarities within our intimate group. Keeping in mind the other Airbnb housemates who'll also be hosting their booths at the festival (spoiler alert: the man behind a highly regarded IB will be in residence), we'll respect the time and move on to a bar after a reasonable period.
Due to the limited space and high demand for this exclusive warmup party, we will hold a raffle for the 7 available spots. The lucky winners will be selected based on their activity in the RumX-Universe - each shared tasting in the app (all-time) earns you a ticket into the raffle. So, the more active you've been, the higher your chances of winning!
How to participate in the raffle:
Step 1: Comment on this thread with "I want to join!"
Step 2: (Optional) Increase the number of your tastings in the RumX app.
Step 3: Get lucky on 06.06.2023 and be drawn in the lottery process.
We can't wait to celebrate the kickoff to the "12th German Rum Festival" in Berlin with you, and to usher in a fanatical fair weekend afterwards.
Cheers to a Rum-tastic Warmup!
Best, The RumX Team
Oliver & Jakob