I told you, its worth a visit

Yes!

I could have bought one or two more bottles but I already have way too much rum to haul back to France. Next time!

Fabi is a great guy and he deserves people like you visiting and purchasing rare bottles.
I'll be in the shop Friday evening for some shopping. Wanna meet up for a dram there

Friday evening will be tough for me as I'm going back to my mother in the morning.

Fabian is one of the main reasons why I do enjoy Rum now. Always worth a visit

What a nice spread, yum yum

Ouah chantal comte 2006! What à great rhum!
Excellent choice! Once it's gone those who didn't buy a bottle will regret.
I felt that Worthy Park is way to underrepresented in my rum shelf and because of that I got me these two beauties: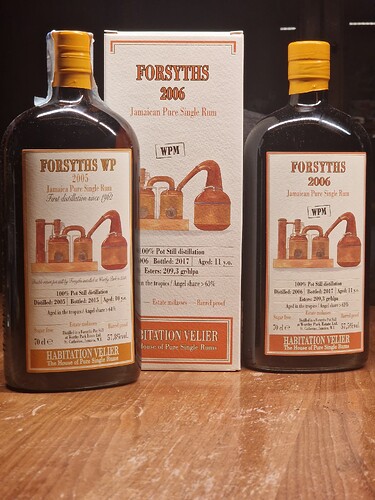 Die drei WP von HV flogen alle (zum Glück) komplett unter'm Radar. Dabei stehen sie m.E. den HV-Abfüllungen von Hampden qualitativ in nichts nach.
Nach nun doch nochmaligen (letztmaligen…) Nachkauf des WPL habe ich gerade tatsächlich alle drei offen & werde die am Wochenende mit meinem Kumpel erneut direkt miteinander vergleichen!



Aus der Erinnerung heraus würde ich behaupten, liegt der 2005er knapp vorne! Der ist allerdings tatsächlich als einziger der WP-Range von HV mittlerweile in D sold out, oder???

My salesman still has some of them in stock and said to me the other day: I don't understand why it's still there when it's much better than other jamaicans of the same brand that sold out right away and that people are still looking for…
I also saw a message on facebook for a WorthyPark 2006 from rum nation for 77€! I think it's a great price for a great rum (I paid a little over 100€ for mine I think)!
Scheint so, ich habe die Flasche in Italien bekommen.