Hi everybody,
Not sure to be at the right place but I'm improving (and buying) a lot of Cognac these lasts months.
I'd like to exchange with people doing to to share tastings, ideas to purchase.
So I do my first one cause this Cognac is really great and quite cheap : Fanny Fougerat "Le Notoire" Très Vieux Fins Bois 44,8%. Huge fruits, no wood at all. Serge Valentin did a nice review here.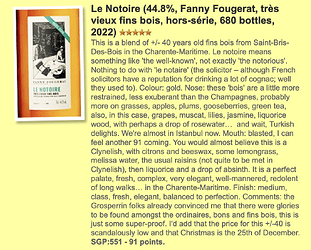 Really great !!!