Wir hatten auch via FB und nem Armagnac.de Verteiler informiert. Aber ja, wir hatten nur ne handvoll Flaschen…
And more from The Nectar:
The Nectar nervt. Bin die ganze Zeit schon am überlegen ob ich mir die NASA/Weltraum collection bestelle und evtl sogar einen Split draus mache und jetzt das

Sind Etiketten Designs für euch ein Kaufanreiz? Mir persönlich ist das Aussehen der Flasche komplett egal. Braunglas ist wegen der UV Undurchlässigkeit manchmal an kleiner Anreiz, eigentlich aber auch nicht, da eh alle meine Flaschen im dunklen lagern.
Ich muss sagen, dass das Etikett bei mir manchmal zumindest die allererste Intention weckt, sich einen Rum mal genauer anzuschauen. Ist natürlich kein abschließendes Kaufkriterium, aber der erste sensorische Kontakt ist nun mal optischer Natur, daher machen sich Marketingabteilungen auf der ganzen Welt Gedanken, wie man jemanden am besten direkt mit ästhetischer Gestaltung catcht.
Also unter dem Strich: Drittrangig, aber irgendwie schon ein wirksames Werbemittel, finde ich.
Eigentlich nicht, aber ich finde die trotzdem schön. Wenn es nur nachdem ginge dürfte man keine Foursquares mehr kaufen, da tauschen die jedes Jahr nur die Zahlen aus
Seh ich genauso

Panama und Belize wären interessant, aber erstmal sehen was aufgerufen wird.
Is that 16 yrs old Panama a 2006 Don Jose?
"Distilled in Panama at [sic]Valera Distillery" (text around the 'P' of Panama)
Panama 98; Belize 87
Sieht hier:
Edit: außerdem nen Hampden bei den neuen releases dabei für vergleichsweise geringem Preis. Ob der was taugt wage ich mich aber nicht zu mutmaßen.
Das ist ja noch im Rahmen, zumal es 0,7er sind. Qualitativ gibts da ja eher selten Ausfälle.
Did anyone have a chance to try this yet?
I need a gentle push to pull the trigger.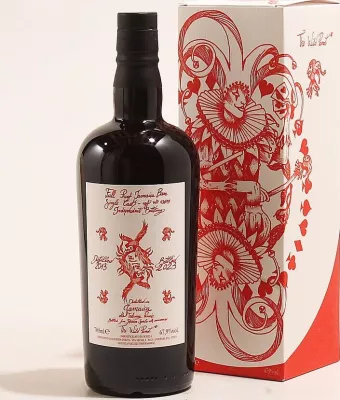 Haven't tried it and haven't seen a review either. 2013 should be <>H or LROK, like the two Nobilis. I suspect it's LROK since that seems to be what the rum overlords have been releasing from their stash recently. That beeing said, I think these bottles are 50–70€ too expensive. If I had to push, I'd do so in the other direction

Yeah, the price is a little too high for a blind buy. I'll keep my money for the next Enmore release so that I can buy that one blind instead.

Does anyone have an idea when the Foursquare ECS Touchstone will hit European markets?
what i do know is that it was available in barbados earlier this year. and then probably also appeared at auctions with 10 bottles in England, which probably annoyed richard seal. there is also a facebook comment about it from him.
but I don't know more details either, because I like Foursquare very much, but have refrained from doing it since the isonomy, because I now find the prices more than excessive.
at the auction, bottles were all over £200 and up.
this price will probably also be taken over by the dealers is my fear
There are some bottles of Touchstone available in the US for about 120-140 USD. There were less bottles of the Isonomy made so it was more limited. And it also aged 17 years, Touchstone "only" 14 years. I guess that's why it was so expensive.
But I am also afraid that prices may only go up correlating with the growth of the ECS-Fanbase.