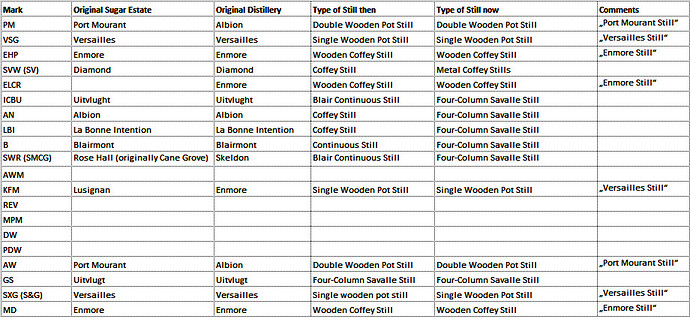 Most of you might know this chart. I got this one from
singlecaskrum.com
. It goes back to a blog article by
cocktailoldfashioned.com
and was created with the help of Stefanie Holt - back then she was a brand ambassador of El Dorado.
This table has many empty cells and many of the Marks connected to Guyana rum are still hard to figure out. Some might be marks from brokers others from the distillers others might come just out of Luca Gargano's mind.
I'd be very happy if it is possible for us together possible to bring some structure to this mess and help everyone to understand Guyana rum marks better. I'm really no expert, all I did was collecting information from different sites (see sources below).
There are a lot of marks with only one vintage: PDW 1972, XPD 1971, MEV 1990, or REV 1994, or only one release UPM 1997.
What might be the aim of this exercise? Fill the empty cells. Find out who created which mark. Find different Marks for the same rums respective group similar marks together. Adding more vintages, perhaps creating a list of vintages for each mark, to make it possible to identify a rums mark by its vintage, color, and still.
So let me do an example: DDL's Master Distiller Lennox Shaun Caleb says there are only two Versailles Still Marks: VSG and REV, with the latter being the colored version of the former. The only REV which is known is the 1994 Vintage - but is the MDXC from 2004 perhaps such a REV? And there are recent bottlings from That-Boutique-Rum Company with the Mark KFM and SXG.
Here we go:
| Mark | Original Sugar Estate | Original Distillery | Type of Still then | Type of Still now | Still Name | Colored | Dechiffre | Style | Mark Type | First Known Vintage | Last Known Vintages |
| --- | --- | --- | --- | --- | --- | --- | --- | --- | --- | --- | --- |
| DHE | Uitvlugt | Diamond | | Double Retort Pot Still | Diamond High Ester (John Dore Still) | | Diamond High Ester | | | | |
| SVW | Diamond | Diamond | Coffey Still | Metal Coffey Still | Diamond Still | Colored? | | | | 1973 | 1999 |
| SSN | | Diamond | | Metal Coffey Still | Diamond Still | | | | | | |
| VNL | | Enmore | Single Wooden Pot Still | Single Wooden Pot Still | Enmore Still | | | | | 1962 | 1962 |
| EHP | Lusignan | Enmore | Wooden Coffey Still | Wooden Coffey Still | Enmore Still | | Edward Henry Porter | Medium Emore | | 1994 | 2012 |
| ELCR | | Enmore | Wooden Coffey Still | Wooden Coffey Still | Enmore Still | Colored | Enmore Light Column-Still Rum? | Light Enmore | | 1995 | 1995 |
| EHE | | | | Wooden Coffey Still | Enmore Still | | | | | 1997 | 1997 |
| MD | Enmore | Enmore | Wooden Coffey Still | Wooden Coffey Still | Enmore Still | | | | | | |
| DLR | | Diamond | | Metal Multicolumn | MPRS (Multi-pressure Rectification Still) | | | | | 1998 | 1998 |
| GS20 | | Diamond | | Metal Multicolumn | MPRS (Multi-pressure Rectification Still) | | | | | | |
| LSR | | Diamond | | Metal Multicolumn | MPRS (Multi-pressure Rectification Still) | | | | | | |
| UN | | Diamond | | Metal Multicolumn | MPRS (Multi-pressure Rectification Still) | | | | | | |
| PDW | | Uitvlught | | Double Wooden Pot Still | Port Mourant Still | | | | | 1972 | 1972 |
| AW | Port Mourant | Albion | Double Wooden Pot Still | Double Wooden Pot Still | Port Mourant Still | | | | | 1986 | 2012 |
| UPM | | Uitvlught | Double Wooden Pot Still | Double Wooden Pot Still | Port Mourant Still | Colored? | Uitvlugt Port Mourant | | | 1997 | 1997 |
| MPM | | Uitvlught | Double Wooden Pot Still | Double Wooden Pot Still | Port Mourant Still | Uncolored? | Modified/Main Port Mourant | Light Port Mourant | Broker? | 1990 | 2010 |
| DW | | | | Double Wooden Pot Still | Port Mourant Still | | | | | | |
| PM (UP) | Port Mourant | Albion | Double Wooden Pot Still | Double Wooden Pot Still | Port Mourant Still | | | | | 2010 | 2010 |
| AN (GV /) | Wales | Albion | Coffey Still | Four-Column Savalle Still | Savalle Still | | Albion and Nigg | | | 1983 | 2004 |
| ICBU | Uitvlught | Uitvlught | Blair Coninuous Still | Four-Column Savalle Still | Savalle Still | Uncolored | Ignatius Charles Border and Ursillya | | | 1988 | 2008/2007 |
| B | Blairmont | Blairmont | Continious Still | Four-Column Savalle Still | Savalle Still | | | | | 1991 | 1991 |
| ULR | | Uitvlught | | Four-Column Savalle Still | Savalle Still | | Uitvlugt Light Rum | | | 1997 | 1997 |
| LBI | La Bonne Intention | Ogle | Coffey Still | Four-Column Savalle Still | Savalle Still | | | | | 1998 | 2012 |
| GS | Uitvlught | Uitvlught | Four-Column Savalle Still | Four-Column Savalle Still | Savalle Still | | | | | | |
| MGS | | Uitvlught | | Four-Column Savalle Still | Savalle Still | | | | | | |
| SVL | | Diamond | Four-Column Savalle Still | Four-Column Savalle Still | Savalle Still | Colored | Savalle Still? | | Marketing | 05/2003 | 05/2003 |
| SWR (SMCG) | Rose Hall (orginally Cane Grove) | Skeldon | Blair Coninuous Still | Four-Column Savalle Still | Savalle Still | Colored | Sir William Ross | | | 1973 | 2001 |
| XPD | | Enmore | | Single Wooden Pot Still | Versailles Still | | | | | 1971 | 1971 |
| AWM | | Enmore | | Single Wooden Pot Still | Versailles Still | Uncolored | | Light Versailles Style | | 1988 | 1988 |
| MEC | | Enmore | | Single Wooden Pot Still | Versailles Still | Colored | | | | 1988 | 1992 |
| MEV | | Enmore | Single Wooden Pot Still | Single Wooden Pot Still | Versailles Still | Uncolored? | Main Enmore Versailles ? | | Broker? | 1990 | 1990 |
| VSG | Versailles | Versailles | Single Wooden Pot Still | Single Wooden Pot Still | Versailles Still | Uncolored | Versailles, Schoon Ord, Goed Fortuin | | | 1990 | 2012 |
| KFM | Lusignan | Enmore | Single Wooden Pot Still | Single Wooden Pot Still | Versailles Still | Uncolored | Kenneth Francis McKenzie | | | 1991 | 2003/2004 |
| REV | Versailles | Enmore | | Single Wooden Pot Still | Versailles Still | Colored | | | | 1994 | 2006 |
| SXG | Versailles | Versailles | Single Wooden Pot Still | Single Wooden Pot Still | Versailles Still | Uncolored | Schoon Ord & Goed Fortuin? | | | 2003 | 2005/2006 |
| MDX | | | | Single Wooden Pot Still | Versailles Still | Uncolored | | | Broker? | 2004 | 2004 |
| MDXC | | | | Single Wooden Pot Still | Versailles Still | Colored | | | Broker? | 2004 | 2004 |
| MEK | | | | Single Wooden Pot Still | Versailles Still | Uncolored | Main Enmore KFM | | Broker | 1991 | 1991 |
| MER | | | | Single Wooden Pot Still | Versailles Still | Uncolored | Main Enmore KEV | | Broker | 1994 | 1994 |
| EDG | | Enmore | | | | Uncolored | | | | 1983 | 1983 |
| MEEA | | | | Column Still (Metal Coffey or Wooden Coffey) | | Uncolored | Main Enmore EHP Armagnac? | | Broker? | 1998 | 1998 |
| MPMM | | | | Double Wooden Pot Still | Port Mourant Still | Uncolored | Main Port Mourant Malt Whisky | | Broker? | 1997 | 1997 |
| MPMC | | | | Double Wooden Pot Still | Port Mourant Still | Uncolored | Main Port Mourant Cognac | | Broker? | 1998 | 1998 |
| FP | | Albion | | | | | | | | | |
| MDK | | Diamond | | Mix of Single Wooden Pot Still and Wooden Coffey Still? | Versailles Still or Enmore Still | Uncolored | | | | 2003 | 2003 |
| MDV | | Diamond | | Single Wooden Pot Still | Versailles Still | | Main Diamond VSG? | | | | |
| MDE | | Diamond | | Wooden Coffey Still | Enmore Still | | Main Diamond EHP? | | | | |
| MDLB | | Diamond | | Four-Column Savalle Still | Savalle Still | | Main Diamond LBI | | | | |
| S | | Diamond | Coffey Still | | | | Diamond Still | | | 1999 | 1999 |
| W | | Diamond | Coffey Still | | | | Diamond Still | | | 1993 | 1999 |
| SV | | Diamond | Coffey Still | | | | Diamond Still | | | 1988 | 1995 |
| MDSL | | Diamond | Four-Column Savalle Still | Four-Column Savalle Still | | Colored | | | Broker? | 12/2003 | 12/2003 |
| MDS | | Diamond? | Four-Column Savalle Still? | Four-Column Savalle Still | | | | | | 1996 | 2008 |
Sources: