Dear RumX Community,
we are excited to announce the launch of a highly anticipated feature in the RumX app - the simplified in-app shopping experience! Over the past few months, we've been working hard to develop this new feature, which was one of the top requests from our RumX Summer Survey 2022.
Gone are the days of being redirected to external partner store websites and dealing with varying levels of usability. Now, you can enjoy a seamless shopping experience directly within the RumX app!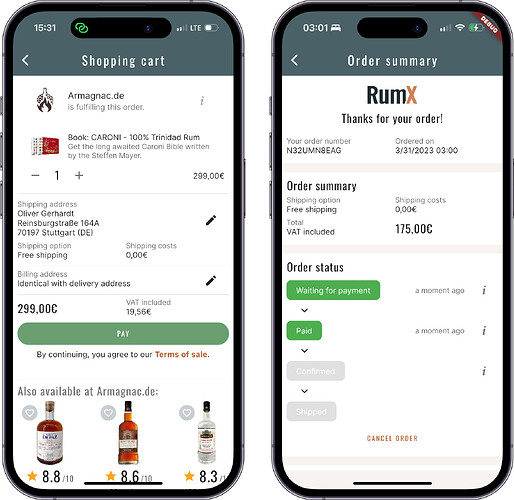 We're kicking off this new feature with our pilot partner Armagnac.de, and in cooperation with Rum Sponge (Angus MacRaild), who will also be sponsoring the latest Tasting Lottery in April (Spoiler-Alert

).
In the coming months, we'll be transitioning our current store partners to this user-friendly system, and we already have several exciting new partners lined up to expand the RumX assortment.



You'll now have the opportunity to purchase Rum Sponge releases directly through the app.
To make the launch of our new in-app shopping feature even more special, we're thrilled to announce a fantastic opportunity for all of you. For a limited time, we're offering select sold-out releases of Rum Sponge for purchase exclusively through the RumX app! Plus, we've included the highly anticipated new release - Clarendon No. 20 1997!
Here's the list of available products you don't want to miss:
This is the perfect opportunity for you to try out our new in-app shopping feature and secure these highly sought-after Rum Sponge releases with a 5% discount at best price (until 09.04.2023 23:59 CET) to celebrate the new in-app shopping feature! This is a pre-order and the bottles will be shipped to you no later than 01 May. So go ahead, open the RumX app, and enjoy the seamless shopping experience while adding these coveted releases to your collection.
Sascha has also added a few hidden gems to the inventory (limited availability!):


How does the new in-app checkout work?
Here's a quick guide on how to use the new in-app shopping feature:
Open the RumX App.
Click on the shopping cart icon in the top right corner of the app bar to access the new shopping area, where you'll find the rums available.
Add your desired rum(s) to the shopping cart.
Enter your shipping address (you can optionally save it locally on your device for future purchases).
Choose your preferred payment method and complete checkout.
You'll receive an order confirmation from our partner store within 24 hours, followed by a shipping confirmation with a tracking link.
Sit back, relax, and wait for your new rum to arrive at your doorstep!
Your feedback is important for us!
We hope you enjoy this new feature as much as we do! As always, your feedback is invaluable to us, so please don't hesitate to share your thoughts and experiences with the in-app shopping feature in this thread or by contacting @Jakob or myself directly.
Cheers to a smoother, more enjoyable rum shopping experience on RumX!

Warm regards,
The RumX Team