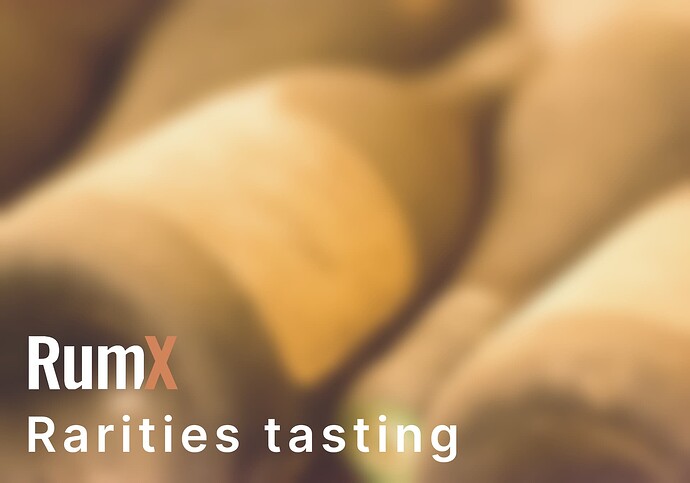 Dear RumX Community,
Our last RumX Advent Calendar was met with such incredible enthusiasm that we've decided to bring a little of that Christmas magic to your summer! Today, we are incredibly proud to announce the arrival of our first-ever RumX Rarities Tasting.
The Rarities Tasting 2023, just like our beloved Advent Calendar, will offer a unique blind tasting experience. The identities of the rums will remain a tantalizing mystery until 9 p.m. each day, providing ample opportunity for participants to discuss, debate and guess on our RumX forum.
Our latest creation includes 11 high-end rums. Our diligent RumX admin team sourced 10 of these exquisite bottles, while our friends at Distilia have generously contributed one very special addition (A big thank you goes to @Jakub!). You can anticipate 11 exceptional rums that we can confidently term 'world-class' rums (The rums have received a combined average rating of 8.7/10 from the RumX community).
To ensure the anticipation remains high, we will keep the specific identities of the rums a secret. However, we are not so cruel as to leave you completely in the dark. Here's a hint of what you can expect:
Lovers of Velier Demeraras, tropically matured Caronis or legendary Grand Arômes will be in rum heaven.
The selection will include 4 rums from Guyana, 2 rums from Barbados and one each from Jamaica, La Reunion, Martinique, Marie Galante, and Trinidad.
The total market value of these bottles nearly reaches €10,000. As this is a 'for the community, by the community' initiative, we have priced the sample sets based on our purchase prices, without any added surcharges.
Thanks to our careful sourcing, we are able to offer the Rarities Tasting 2023 for the unbeatable price of €198.50 plus shipping. However, please note that due to the inclusion of a special 50cl bottle, which we couldn't find a second one of at an affordable price, the availability of the sets is strictly limited to 20 units. Each set contains 11 rums with 2cl each. The quiz in the forum including the resolution of the rums will take place in mid-August. The exact date will be announced.
Want to be one of the lucky ones to secure this highly sought-after tasting kits? Comment "Count me in!" on this thread. The comment section will open promptly next Sunday (02.07.2023) at 20:00 CET. The sets will be awarded to the fastest responders based on the timestamp of the comments - speed is of the essence!
We look forward to embarking on this fantastic blind tasting journey with you - the best rum community in the world!